SK Chimney Sweep - Measham - Chimney Sweep for North West Leicestershire and Derbyshire
Birds Nest and Live Bird Removal
As a expert in Chimney Sweeping Sam often gets asked "Do birds make nests in chimneys?"
The simple answer is Yes ! They do. The main culprits are jackdaws, but many other breads can and will nest in a chimney, causing no end of problems for the home owner.
A bird nest in your chimney is a very real and dangerous problem. The birds can damage the internal brickwork, cause damp, be very noisy and cause insect infestations. So, you need to clear them out as soon as you can. The most concerning of all is the nests themselves are a serious fire hazard.
The only way to remove a nest is from the bottom through the fireplace. So, unfortunately, if your fireplace happens to be blocked up, you will need to uncover the entrance by removing the plasterboard before any chimney sweep arrives.
| | |
| --- | --- |
| | Sam Says "Birds nesting in the chimney provide a real risk of damage and fire, don't light a fire and call me and I will come round" |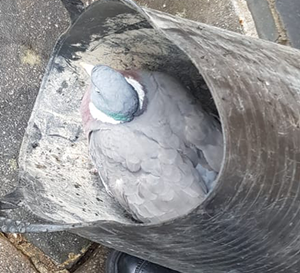 It pays to keep an eye on your chimney in spring, anytime you see a lot of jackdaws or other birds gathering around the top, there is probably an opening they are trying to squeeze through or break into.
You need a solid bird guard or cowl to stop birds getting into your chimney.
For advice on birds nests and removal give Sam a call: 07949 192458