SK Chimney Sweep - Measham - Chimney Sweep for North West Leicestershire and Derbyshire

For more fuel advice click the logo above
Fuel Advice
As a expert in Chimney Sweeping Sam often gets asked " Can I burn anything "
The simple answer is No !
It makes sense to burn clean wood (never with contaminants such as plastics or rawlplugs) it should not be wet this can cause more soot in the chimney, more air pollution and cost you money as it less effective.
Fuel burnt must suit your stove. Don't burn coal in a wood stove - use the fuel according to the stoves manufacturer instructions.
Never burn any rubbish in a stove or open fire. There is avery high risk of chimney fires and poisoning from harmful gases, in particularly plastic is burnt.
| | |
| --- | --- |
| | Sam Says "Always burn wood with a moisture content of 20 per cent or less use, why not a moisture thermometer to check" |
Sam's Guide to the best and the worst woods should help you understand the different burning capabilities of of wood. Remember that wood should always be burn at a higher rate for efficiency.
To read Burn Rights "wood as a fuel" click here (PDF) document
It is always best practice to use seasoned wood (dryer), and not use green wood (fresh cut or a few months old) Fruit tress normally have a pleasant smell. If using oak it needs to be well seasoned - as it can produce a acrid smoke.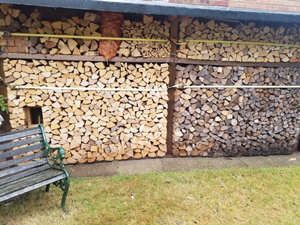 Good Wood
Apple
Ash
Beech
Cedar
Cherry
Chestnut
Eucalyptus
Hazel
Holly
Larch
Laurel
Lime
Maple
Pear
Plum
Rhododendron
Sycamore
Walnut
Yew

Fair to Good Wood
Birch
Elder
Elm
Oak
Pine
Spruce

Bad Wood
Alder
Douglas Fir
Laburnum *
Poplar
Willow

*Poisonous tree