SK Chimney Sweep - Measham - Chimney Sweep for North West Leicestershire and Derbyshire
Chimney Sweeping Services
As a expert in Chimney Sweeping Sam often gets asked "How often should I get my chimney swept?"
The industry standard for chimney sweeping is HETAS who recommend that you should have your chimney swept twice a year if you burn wood or house coal and once a year for smokeless fuels. Ideally you should have a sweep before you start using your stove or fire for the winter. For more information and advice on chimney sweeping visit the HETAS website.
| | |
| --- | --- |
| | Sam Says "Getting your chimney swept will cut risks, Co2 and fire, always use a certified sweep and get proof the chimney has been swept " |
Sam is licensed and insured to sweep all kinds of chimneys, flues, fireplaces and stoves including:-
SK Chimney Sweep for:

Aga flues

Rayburn

Inglenook

Multi fuel stoves

Gas Fire

Parkray

Jetmaster fire

Oil Fired Boiler

All Work Certified / Fully Insured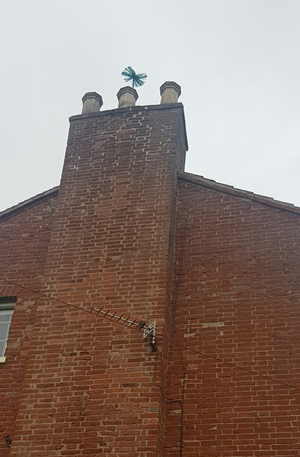 Prepare for SK Chimney Sweep - There are a few things that you can do to prepare, prior to a chimney sweeping:
Ensure the space around the fire is as clear as possible for Sam to work. For example, remove any nearby furniture or valuables from the fireplace area.
Please note that a hot chimney can not be swept, however you can light a fire the night before a sweep (just let it go out naturally). Boilers, Agas and Rayburns must be turned off or put out at least 24 hours before any sweeping appointment.
Please empty the ash from the fire and remove any logs still there- now you see why its better to let the fire go out the night before.
Make an electrical socket available for use - the equipment used has a good length lead so a socket about 3m away is fine.
A clear route to the fireplace from the outside is a big help.
The average chimney takes about 30 minutes to clean, it can take longer depending on the chimney's condition, when it was last swept and If there are any blockages such as birds nests.
What's included in a chimney sweeping?
A chimney safety inspection and fire and CO risk assessment. Your chimney swept with a professional chimney sweep brush set, and a HEPA filter Industrial chimney sweep vacuum. Chimney smoke test after the sweep.
Official Certificate of Chimney Sweeping will be issued on the completion of the sweep and can be used for insurance purposes.
Professional advice on chimney care and maintenance.
A standard sweep starts from £45.00 (includes a service and maintenance inspection), but depends on when you last had it swept, the complexity of the chimney and if you have any obstructions such as birds nests.
To book SK chimney sweep give Sam a call: 07949 192458